Printing on film materials
Characteristics of the automatic screen printing line.
SAKURAI automatic screen printing line is designed for printing film scales and light filters on sheet film materials.
The capacity of the automatic line is up to 600 impressions per hour.
The automatic line consists of a number of modules:
Flat-printing machine model MF-80 (manufactured in Japan) with automatic self-laying of sheets, a control and diagnostic panel with a touch display, overhead tables with vacuum falling belts, a vacuum printing table.
Combined drying machine model Air Force/UV/IR-90 (manufactured by Natgraph Ltd, UK) with a control camera.
The combined drying includes:
Steel table for connecting the drying chamber and the printing machine (transfer conveyor 0.5 mm.) with a vacuum clamping of sheets, a pneumatic 90° rotation device and an input device:

Module No. 1 hot air drying
Module #2 hot air sushi
Hot air drying Model No. 3
Active cooling module No. 5 with heat exchange radiator and a separate standing refrigerator.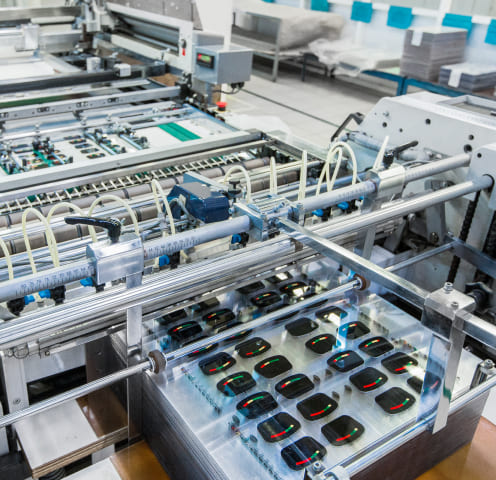 The following materials are used as film materials:

MAKROLON polycarbonate sheet monolithic transparent company BAYER, Germany.
Macrocarbonate optical film MAKROLON DE6-2 wholesale company BAYER, Germany.
LEXAN polycarbonate sheet, monolithic, transparent
For printing on film materials, screen printing inks of the MARASTAR SR series, manufactured by MARABU Germany, are used.
Other services
The enterprise carries out a full cycle of production of finished products